Volvo has introduce the first three-mode hybrid in the world during the 81st Geneva International Motor Show this week. During a media preview, the hybrid diesel V60 sedan was unveiled. It's a plug-in electric vehicle concept car that the company hopes to have on European roads by 2012. The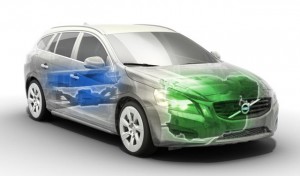 driver chooses the preferred driving mode via three buttons on the instrument panel: Pure, Hybrid and Power. The interaction between diesel and electric power is handled via a control system.
According to Volvo, the car boasts 150 miles per gallon (mpg) in the hybrid mode when using its 2.4 liter diesel engine and 70 horsepower electric motor coupled to the rear drive. The diesel hybrid has two separate drivetrains that can operate on their own or together. In the front is a 2.4-liter five cylinder turbodiesel with a 215 horsepower and a 324 pound-feet of tourque. In the back, a 70-horsepower electric motor with a 12-kWh lithium-ion battery pack controls the Electric Rear Axle Drive (ERAD).
By simply pressing a button, you can tell the car how you want to drive:
* An electric car with a range of up to 32 miles.
* A high-efficiency hybrid with carbon dioxide emissions averaging just 49 g/km.
* A dynamic and engaging car with a combined output of 215 + 70 horsepower, 440 + 200 Nm of torque and acceleration from 0 to 62 mph of just 6.9 seconds.
"The second-generation hybrid is the perfect choice for the uncompromising buyer who wants a superbly carbon dioxide-lean car packed with driving pleasure. To get drivers to think green, we have offered both, in one traditional genuine sports wagon" says Stefan Jacoby, President and CEO of Volvo Cars.
Jacoby added, "The technology is still undergoing development and testing, however, the car already points very clearly to what our customers can expect when the plug-in hybrid enters showrooms next year. What we've done is to spice it up with spearhead technology that allows the driver to choose: zero emissions, high-efficiency hybrid or full-on performance. Just select the mode that suits best."
Volvo did not indicate if the car could run using a biodiesel blend but did indicate that the car was still undergoing development.