"To many of you, Ron Miller requires no introduction. He has been ethanol long before ethanol was cool," began Renewable Fuels Association (RFA) Chairman Chuck Woodside during his introduction of Ron Miller who won the 2011 RFA Membership Award during the National Ethanol Conference that recently took place in Phoenix, Arizona.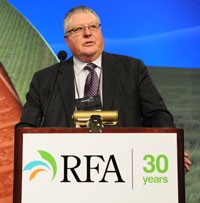 Miller has been the Chairman of RFA three times and helped establish and served on the Technical Committee for 10 years. He is only the second person to receive the Membership Award.
Ron Miller began his ethanol career in 1981, fresh out of the oil industry. One of his first steps, along with two other companies, was to form RFA. Today, he owns a consulting firm called Prisma Advisors and specializes in working with advanced biofuels companies.
Miller notes that while the industry has gone from producing a 100 million gallons per year or so back in the early '80s to now 10 percent of the total U.S. gasoline gallons, the same problems the country had then, are still the same problems the country has today: energy, economy and environment.
"We've grown a lot but the problems are still the same. It might be a little different in the way they're looked at, but the challenges of trying to grow the industry are still there," said Miller.
While Miller said the past 30 years have been a wild ride, he's loved every minute of it and he's looking forward to the years ahead which he believes will be the best yet.
Listen to or download the interview with Ron Miller here: Ron Miller Interview