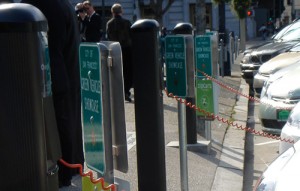 Electric vehicle (EV) charging stations have arrived in Kansas City, Missouri. Posty Cards has installed the first publicly available ChargePoint networked charging station in the KC metro area. The ChargePoint stations are the creation of Coulomb Technologies and were installed by Posty Cards as they attempt to have their new headquarters become Platinum LEED Certified. In addition to the new ChargePoint station, the building also features the largest solar panel installation in the KC area, solar heated water, high-efficiency variable volume HVAC, natural lighting with active artificial lighting controls, rain water reclamation for irrigation and flushing toilets, and native plant landscaping. The project, led by Turner Construction Company and McHenry Shaffer Mitchell Architects, is expected to be the first LEED Platinum manufacturing facility in the United States.
"The ChargePoint station is a further example of our commitment to sustainability, and we hope this installation will support and raise awareness that electric vehicles will soon be available throughout Missouri," said Erick Jessee, President of Posty Cards. "Even better, we are encouraging our employees and the public at large to consider owning electric vehicles as a cleaner, more efficient mode of transportation."
Although a ChargePoint station is open to the public, you must be a ChargePoint member to actually charge your vehicle. Members are able to track electricity consumption, greenhouse gas emission reductions, locate ChargePoint stations throughout the country as well as receive navigational assistance to these locations. In addition, a user can check station availability from any smart phone or web browser among other features.
Coulomb's CT2100 ChargePoint charging stations have dual outputs that deliver charge simultaneously. Stations supply both a 7.2 kW Level II output delivering 208 – 240 VAC @ 30 Amps via a standard SAE J1772 connector attached by a fixed 18-foot cable, and a 2 kW Level 1 output delivering 120 VAC @ 16 Amps via a standard NEMA 5-20 receptacle protected behind a locking door.