The National FFV Awareness Campaign is launching the Ohio FFV Awareness Campaign today during the Cleveland Auto Show. The goal of the campaign to raise awareness and use of higher blends of ethanol.
Douglas A. Durante, Executive Director of the Clean Fuels Foundation, the organization spearheading the Campaign said, "With rising tension in the Middle East and gasoline prices to match, FFV owners are going to be the nation's first line of defense during the next oil shortage and/or price spike. FFV owners will have the option to use up to 85% ethanol in their FFVs while also supporting Ohio's #1 economic engine – agriculture. Ohio has a large population of FFVs, ethanol production, a strong agricultural sector, numerous federal fleets, and automakers making FFVs. If economic development does not get everyone's interest, we hope the $1,000 in free fuel will. These are trying times for our nation and we think FFV owners will want to try some higher blends of ethanol."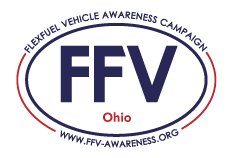 As part of the Campaign, Ohio FFV motorists have a chance to stop by the booth during the show and register to win $20 E85 ethanol gift cards. In addition, POET Biorefining is sponsoring the $500 and $1000 FFV Awareness FlexFuel Giveaway drawings. After the event, the Ohio FFV Awareness team will continue to work with FFV dealers, E85 retailers and other stakeholders to launch the $1,000 FlexFuel grand prize.
"Many people don't even realize that they have the option to use cleaner, American-made ethanol within their FlexFuel vehicles (FFV's)," Bishop said. "This campaign changes that. If given the opportunity, I know even more U.S. drivers will choose to support American jobs and renewable energy by fueling up their FFVs with ethanol," said Mike Bishop, General Manager, POET Biorefining and Vice President of Ohio Ethanol Producers.
According to the National Renewable Energy Laboratory, Cleveland, Columbus, Cincinnati, Dayton, and Toledo are 5 of the 33 markets with the highest concentration of FFV owners in the United States.
Sam Spofforth, Executive Director of Clean Fuels Ohio, a Clean Cities Coalition, added, "There are about 650,000 FFVs owners in Ohio. However, according to industry observers about 90% of FFV drivers don't know they have a vehicle that can use any combination of gasoline ethanol up to 85% — or know that's what makes their car flexible. We look forward to being a part of the Ohio FFV Awareness Campaign team and coordinating the selection of the $1,000 fuel giveaway winner from the state FFV owner database on July 4, 2011."