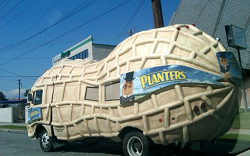 Look for Mr. Peanut to come to a neighborhood near you riding in his biodiesel-powered Planters Nutmobile!
As part of its sustainability efforts, Planters has launched its Naturally Remarkable campaign to highlight the company's efforts to work and act more green. From Mr. Peanut's Facebook page:
"Not only does the new Planters Nutmobile run on biodiesel, it harnesses the power of sunlight and wind. Just like me. Everyday."
For more on Planters' sustainability efforts and biodiesel-fueled Naturally Remarkable Tour, check out the company's website.