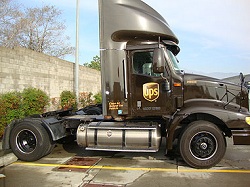 In an effort to make its brown trucks run green, shipping giant UPS has added 48 heavy tractor trucks that use Liquefied Natural Gas (LNG).
This company press release says the new semis will be used in the western United States starting later this year and will produce 25 percent fewer greenhouse gas emissions:
"This is an important step not only from an environmental standpoint but from the viewpoint of U.S. energy security," said Mike Britt, UPS's director of vehicle engineering. "Liquefied natural gas is a cheaper, cleaner-burning fuel that is better for the environment and more sustainable than conventional diesel. And it's also a fuel that's in abundant supply inside the United States; it doesn't have to be imported."
According to Britt, there are multiple technologies and alternative fuels being explored or deployed today to provide propulsion for small- and mid-sized trucks. "But at the moment, LNG is the only suitable alternative to diesel for the really heavy, long-haul tractor trailers you see on the highway," he added. "As a fuel, LNG is very dense, providing a large amount of energy for the amount of space it occupies. This makes LNG an excellent potential fuel for large trucks that need to travel a long distance before refueling."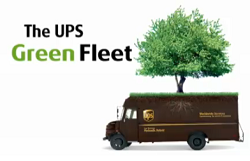 Manufactured by Kenworth, the LNG tractors are powered by Westport HD Systems and initially will pull trailers on a transit lane linking Ontario, Calif., and Las Vegas, Nev., along with UPS's 11 existing LNG tractors. UPS is the only private delivery company using this technology in its fleet and now has more than 1,100 natural gas-powered vehicles in service.
The release goes on to say that UPS operates 1,914 alternatively fueled vehicles, including those running on Compressed Natural Gas, propane, and electric, as well as hybrid electric vehicles, with this green fleet covering more than 185 million miles over the past decade.