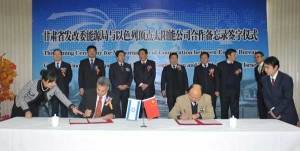 ZenithSolar Ltd. has announced plans to build two 10 megawatt (MW) combined heat and power (CHP) solar station in the Gansu province of China. Gansu is the home of 30 million people and is located in the northwestern part of the country, at the edge of the Gobi desert. As such, it has the best solar energy conditions in China and is among the best in the world. The memorandum of understanding (MOU) was signed with the Energy Bureau of Gansu Provincial Development and Reform Commission of the People's Republic of China during a ceremony in the provincial capital Lanzhou.
Under the agreement, ZenithSolar will provide the technology for the installation of two 10 megawatt (MW) cogeneration plants based on ZenithSolar's Z20 CHP system. The agreement is focused on two planned facilities which are to be located in the cities of Jiayuguan and Jinchang with construction beginning this year. One of the installations will be used to provide electricity and process heat for an industrial plant and the other for a large neighborhood. The Gansu project represents the first large-scale solar collaboration between China and the Israeli company ZenithSolar in the field of CHP solar energy.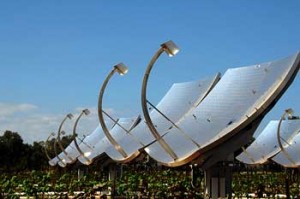 "ZenithSolar is honored to initiate the Gansu project in a province of China that is demonstrating leadership, vision and a long term commitment to renewable energy, said Roy Segev the CEO of ZenithSolar Ltd. We look forward to the collaboration in order to turn the Gansu project into a reality and thereby contribute to China's ambitious renewable energy goals."
Segey continued, "ZenithSolar's system has proven its reliability and effectiveness in providing electric power and heat for over a year in an existing facility in Israel and we view the Gansu project as a tremendous opportunity to demonstrate the technology on a global scale.
Mr. Wang Yongqian, Chairman of Gansu Foreign Affair Office added, "We are very pleased to be partnering with ZenithSolar, a leader in solar CHP technology, in developing the first significant solar project to adopt advanced CPV technology in China."