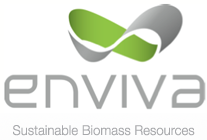 An American maker of wood pellets has acquired a deep water port, and that should help the company receive, store and load more than 3 million tons of woody biomass for export each year.
Biomass Magazine reports that Enviva LP will expand its shipping capacity with the deep water port terminal in Chesapeake, Virginia:
The location is one of a few on the Eastern Seaboard suitable for the export of wood pellets and will serve as the shipment point for pellets manufactured at Enviva's recently announced plant in nearby Ahoskie, N.C. The new plant will produce 330,000 tons of wood pellets annually from more than 600,000 tons of raw supplies, according to Enviva.
The Chesapeake port is Enviva's second and the company will continue to ship pellets made at its Gulf region plants from its Mobile, Ala., port. The Virginia terminal was formerly owned by Giant Cement Co., which will continue to use a portion of it for cement sales. Expansion of the terminal will require 40 to 60 skilled workers and contractors during the initial phase of construction, and its permanent staff of 12 is expected to double by the third year of operation. Upgrades are expected to be complete in November, coinciding with pellet production at the new Ahoskie facility, according to Enviva.
"The Chesapeake region has for a long time been a key nexus of international trade in the United States," said Enviva CEO John Keppler. "We are particularly excited to be one of the first green economy manufacturers to rebalance the flow of trade in favor of exports from this port in Virginia." The company said the terminal purchase is a reflection of its commitment to ensuring the safety, reliability, sustainability and quality of its product. It also allows the company to better satisfy growing overseas demand for wood pellets.
The port will be able to handle ships with more than 44,000 tons of Enviva pellets on board. Most of Enviva's customers are in Europe, but company has been expanding its U.S. base.