SoloPower, a manufacturer of flexible thin film solar cells and modules announced that it has received a conditional commitment from the U.S. DOE for a $197 million loan guarantee. The funds will be used to help complete construction of their manufacturing facility located in Wilsonville, Oregon, when complete, will produce around 400 MW of thin film photovoltaic (PV) modules each year.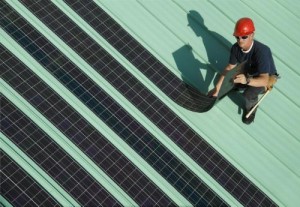 "This announcement is the latest confirmation that when it comes to energy policy, Oregon is on the right side of history," said U.S. Senator Ron Wyden of Oregon. "The project in Wilsonville will hire hundreds of highly skilled, highly paid Oregonians to manufacture the latest in renewable energy technology.  Oregon is already an epicenter for renewable energy projects. A loan guarantee to help companies such as SoloPower get important projects off the ground is the right approach that will keep Oregon where it belongs – at the forefront of technology.  I look forward to working with the folks at SoloPower in putting Oregonians to work creating the products that represent the future of renewable energy."
SoloPower CEO Tim Harris added, "We appreciate and commend the DOE's emphasis on supporting innovative, clean-tech companies as a way to further the goal of energy independence while stimulating employment and helping secure our nation's manufacturing base in this important emerging industry. This backing allows us to rapidly ramp up our production and to promote the spread of clean, distributed solar power to the rooftops and on the ground, while providing hundreds of quality manufacturing jobs using some of the most advanced technology in the world."
Also this week, the Nuclear Energy Institute released the results of a national survey that determined, "By a four-to-one margin, an overwhelming majority of Americans support the use of federal loan guarantees to encourage investment in the clean-energy technologies identified by President Obama in his recent State of the Union address."
The survey found that 79 percent of respondents agree that, "to jump-start investment and maintain U.S. competitiveness, the federal government should provide guarantees backing loans for building solar, wind, advanced-design nuclear power plants or other energy technology that reduces greenhouse gases." Nineteen percent of those surveyed do not agree, and two percent don't know.