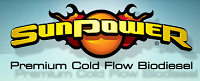 As part of a bigger expansion plan, a biodiesel maker from Wisconsin is adding a 24-hour biodiesel fueling station, as well as using a truck that runs on biodiesel with an electric backup.
SunPower Premium Cold Flow Biodiesel's Cumberland, Wisconsin station will have B11, B20 and B99 blends available plus a winter additive to increase engine performance:
"The owners of SunPower Biodiesel are ecstatic that the dream of locally grown fuel – available to the public – is now a reality for the people of Northwest Wisconsin," said SunPower CEO Ron Ruppel. "We welcome all consumers to try our fuel, and are confident that all will agree that locally grown diesel fuel is superior to all the other available diesel fuels in our marketing area. We envision the day when none of us in rural America will be held hostage to imported oil!"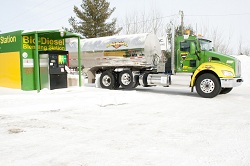 Any equipment, machinery or vehicle that normally runs on traditional diesel fuel can run on biodiesel, a cleaner-burning and renewable form of fuel. SunPower's biodiesel has a higher cetane rating, has 10 times the lubrication properties, and produces up to 50% less emissions than petroleum diesel fuel–making it a greener fuel alternative that is just as efficient as petroleum diesel. In a 60,000 gallon market test, SunPower's biodiesel users reported more power, cooler-running engines and increased mileage. SunPower also uses biodiesel in its fleet, and recently added a hybrid diesel truck that uses biodiesel and an electric-back up. The new hybrid truck has an increased fuel economy of 20-30 percent, and meets emissions, anti-idling and noise regulations. The purchase of the truck and fueling station equipment was made possible with substantial funding from the Wisconsin Clean Transportation Program and is the first of its kind in the state from the Wisconsin Kenworth dealership.
Company officials say the new Renewable Fuels Standard (RFS2) is helping SunPower move forward with this expansion.