GROWMARK, based in Bloomington, Illinois has a long history with selling renewable fuels. The company began marketing ethanol back in the late 1970s. Today, they are a major player in Illinois in selling high quality biodiesel. I had the chance to sit down with Mark Dehner, the company's marketing manager of refined and renewable fuels during the National Biodiesel Board Conference. Although ethanol is a big part of their business, we focused on how biodiesel has helped to grow their business.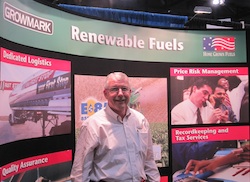 Dehner said that the company sells a performance blend of diesel fuel called Dieselex Gold that helps improve fuel efficiency and protects the fuel while in the hands of GROWMARK's customers. From there, GROWMARK adds various biodiesel blends to that fuel, whether it be B2, B5, B11, which is typical in Illinois, or B20.
Illinois has been very progressive when it comes to the use of biodiesel. The state has a sales tax motor fuels between 6 1/4 percent up to 7 1/2 percent. However, the state passed a waiver that if you use a blend of biodiesel of B10 or higher, effectively B11, there is no sales tax. This becomes very cost effective for the user.
When factoring in this state incentive, the state biodiesel mandate, along with other state biodiesel mandates, the federal Renewable Fuels Standard (RFS2) and the blenders tax credit, Dehner sees good growth for their business this year and in years to come. Yet he said that to ensure this happens, there still needs to be some consumer education. In his experience, he's found that when you have a chance to speak one-on-one with a customer or potential customer to address misperceptions and perceived issues about the fuel, you are usually able to clear them up and get them on board with using the fuel. But ultimately, as with any product, the fuel must be handled properly and used correctly.
GROWMARK is a huge supporter of renewable fuels and they believe that when a consumer understands the benefits they will be for the same reasons: its homegrown, its good for the environment; and it reduces our dependence on foreign oil. That's why the company will continue to sell renewable fuels – because it the right thing to do.
You can listen to my full interview with Mark here: Interview with Mark Dehner