A Maryland company has taken a big technological step forward in the solar power generation field. New Energy Technologies has announced it has moved up to a 12″x12″ square of a spray-on type of coating, known as SolarWindow. While a 12″x12″ square doesn't sound very big, it wasn't very long ago the company was working with areas smaller than a grain of rice and hopes to soon be able to use SolarWindow on a large scale, such as an office building.
In the first in a two-part series with New Energy Technologies (tomorrow, we'll talk about the company's MotionPower technology to get energy from the movement of cars and trucks on highways), I talk with John Conklin, President and CEO of New Energy Technologies about this breakthrough. He says this milestone is part of their road map toward commercializing this new technology.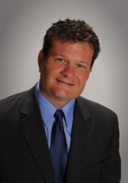 "Part of that road map was our committment to not only commercializing but also expanding the way by which we are going to be applying the types of solar window we are going to be installing," says Conklin. To that end, New Energy has spray applied the coating and produced the 12″x12″ working array. He said that coating should help eliminate some of the more brittle, and expensive materials usually used for solar energy. The lower cost liquid is see-through and can be applied to a window at room temperature without the use of high-vacuum, important to making it commercially viable.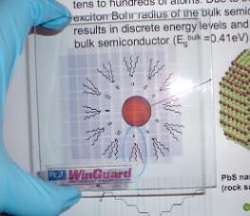 Conklin says this electricity-generating coating works in natural, artificial and low-light conditions, making the solar array much more flexible. "Under very low-light conditions, such as an early morning or late day, it gives us the ability to produce electricity," giving them the option of placing the photovoltaic material on east and west faces of structures, as well as the interior light in the entire building envelope, increasing the area on a building able to produce electricity.
Conklin can't give specifics about when they hope this technology will be commercially viable, but he says 2011 will be a very productive year for New Energy.
You can hear more of Conklin's remarks here: John Conklin, New Energy Technologies.
Plus, I'll have part two of my conversation with him about New Energy's MotionPower right here tomorrow.