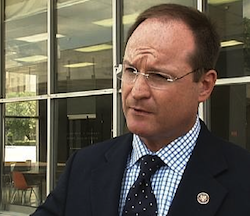 Rep. John Sullivan (R-OK) has submitted a proposed amendment to the House Continuing Resolution, a short-term resolution that was enacted during the lame duck session last year that would fund the government through March 2011, that would block E15 from gaining market share throughout the U.S. This past January, the EPA approved the use of E15, a blend of 15 percent ethanol, 85 percent gasoline, for conventional vehicles and light duty trucks manufactured in 2001 or later. This approval has caused a storm of opposition from politicians, to the petroluem industry, to major food manufactures, to fight to block the use of the higher blend of ethanol.
This Thursday, the House is scheduled to vote to extend funding through September 30, 2011. True to their 'campaign promises,' many Republicans are stepping up to cut costs, and at the ire of several Republicans is ethanol. First, Sullivan has proposed to eliminate funding for the EPA to implement the move to E15.
Bob Dinneen, President and CEO of the Renewable Fuels Association (RFA) responded by saying, "America needs to tighten its belt, but it should not come at the expense of our energy security. Preventing EPA from implementing its approval of E15 for cars, pickups and SUVs made in model year 2001 and newer only means America remains addicted to foreign oil."
"EPA and DOE have done extensive testing and found E15 to be a safe and effective fuel for use in the vehicles approved in the waiver. No evidence to date has shown E15 to cause problems in any vehicle, regardless of its vintage. This amendment seems more about political science than physical science, and would only serve to slow the evolution of America's domestic ethanol industry and strengthen the stranglehold oil has on the nation's economy and energy future," said Dinneen.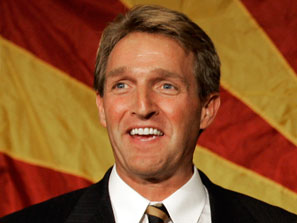 Then, Rep. Jeff Flake (R-AZ) proposed another amendment to the House Continuing Resolution that would bar USDA funds from helping to install blender pumps. Flake has made his move despite the fact that Ag Secretary Tom Vilsack has stated multiple times that the funds are already allocated in previously approved budgets.
"The ultimate outcome of both of these amendments will be to perpetuate our nation's dependence on foreign oil. The Sullivan amendment injects politics where it doesn't belong – in regulatory affairs that are decided by sound science rather than politics," said Tom Buis, CEO of Growth Energy, the organization that submitted the E15 Waiver. "
"A full and immediate move to E15 would create more than 136,000 new jobs in the U.S., reduce our dependence on foreign oil by 7 billion gallons, reduce harmful emissions equivalent to removing 1.35 million cars from the road, and revitalize our rural communities. At the same time, preventing the Administration from implementing policies that will develop our nation's renewable fuel infrastructure will only limit consumer choice at the pump and maintain the status quo," concluded Buis.