A new line of flexible rubber hose has been designed to work better with biodiesel-burning engines.
Fleet Equipment Magazine reports that Eaton Corp.'s new GH100 ESP hose will stand up to biodiesel mixes from 2 to 100 percent: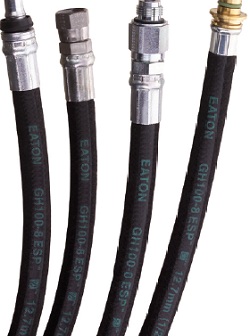 GH100 hose features a hydrogenated nitrile rubber tube, wrapped with aramid/poly braid reinforcement with a polyester abrasion-resistant cover. It is qualified for underhood use with B2 to B20 up to 150C and B100 up to 125C and for transmission oil cooler applications using synthetic lubricants at peak temperatures up to 175C.
"Biodiesel blends and synthetic lubricants are important aspects of the emerging sustainable energy system and they are going to be increasingly common in the future," said Doris Showalter, Eaton senior product manager, transportation and air conditioning products. "Unfortunately, these fluids can quickly make ordinary hose products brittle and prone to cracking, and subject them to other forms of premature failure. At temperatures above 100C, some biodiesel blends above B20 can 'bake out' the elastomers necessary to keep hoses flexible. This is a particular problem in vehicles that may see a variety of fuel blends – B5 this week, B20 and higher next week, and so on.
"Temperature is the catalyst," she said, "and with underhood temperatures easily reaching 150 C on a hot day in the southwest, we are seeing hose damage in a short time depending on the biodioesel blend percentage and quality of the blend, on a global front. The materials used in GH100 resist 'bake out,' which reduces the potential for damage and early hose failure."
The new hose is designed to fill the temperature-performance gap between conventional chlorinated polyethylene tube hose products and premium Teflon hoses.