During the National Biodiesel Board Conference (NBB) last week, I had the opportunity to hang out with some "Next Generation Scientists for Biodiesel". There were 10 in attendance at this year's conference and the two that I spent time with were Evan Le, a senior studying m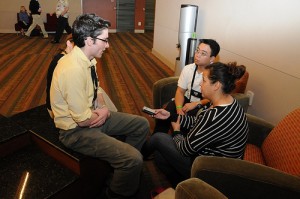 echanical engineering at the University of Nevada and Lucas Ellis, in a graduate Biochemical Engineering program at Dartmouth and a co-chair of Next Generation Scientists for Biodiesel.
I asked Le how he became involved in biodiesel and he said that it was actually a lot of professors pushing him in that direction and a lot of minor biodiesel projects in the courses he took that got him on his way. Eventually, his senior design project was to design a biodiesel project and he chose to focus on algae. This is when he truly discovered there is a lot of potential in biodiesel and he wanted to be one of the scientists who helps unlock this potential.
Le has just begun in career as a biodiesel scientist. He is going to spend the next two years working at Sandia National Laboratory where he will continue working with algae. He wants to focus on research on how to scale up algal biofuels from pilot to commercial scale. Today, he says, it takes too much energy to produce algal biofuels so they are not commercially viable. From there, he plans on working towards in Ph.D. in biodiesel.
While Le is focusing on algal biofuels, Lucas Ellis is actually focusing on cellulosic biofuels in his graduate program at Dartmouth, but he too is very interested in algae. However, he doesn't feel that cellulosic ethanol and biodiesel compete, but rather are two complementary technologies that both have roles in energy production. Ellis also feels that the skills he is developing researching cellulosic ethanol, are the same skills needed to research and develop advanced biodiesel.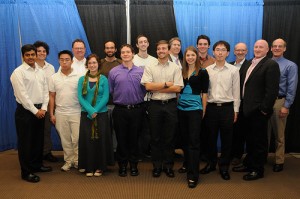 Ellis also fell into biodiesel, per se, while in his undergraduate program and once he got the biodiesel bug, it stayed with him. So when he was given the opportunity to become involved with Next Generation Scientists for Biodiesel, he jumped at the chance. Although the organization is relatively young with 30 founding members, they have a declaration that has been signed by more than a 1,000 budding biodiesel scientists around the world dedicating their careers to researching and developing the next technologies for advanced biofuels.
While at the conference, the 10 next gen biodiesel scientists met with various biodiesel mentors during a luncheon where students and professionals alike shared their ideas and visions for the future of biodiesel.
You can listen to my full interview with Evan and Lucas here: Interview with Evan & Lucas