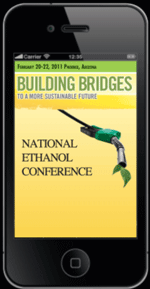 Apps for trade shows and conferences are becoming more and more popular. The next one I'll be using is the National Ethanol Conference App in Phoenix. I hope the weather is as nice as it was for the National Biodiesel Conference this week!

* Get 24 hour access to unique, on-the-go information, maps and networking.
* Organize your schedule.
* Navigate using the conference map.
* Stay in the know with important alerts and the most up-to-date event schedule.
* Download speaker and sponsor information.

Download the App! It's FREE.
Instructions:
For iPhones, iPod Touch and iPad: From your phone, visit the App Store and search for NEC 2011.
For Blackberry, Droid and all other smartphones: From your phone, point your mobile browser to http://m.core-apps.com/nec2011 (the system will determine your phone type for proper download for your device). Then bookmark this page on your phone for easy future access.