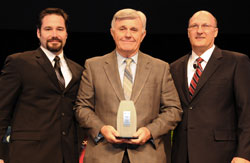 The "Eye on Biodiesel" Awards were presented today during our last general session at the conference. I'm going to list them with their comments from the stage starting with the Inspiration Award. Accepting was Nick Portonova.
Inspiration: Deer Valley Unified School District. This Arizona school district began its biodiesel program in 1999, long before the fuel was a known quantity. Now the district uses biodiesel blends from B5 to B50 in all 236 school buses. Transportation Director Nick Portonova says he routinely takes calls from across the nation, helping answer questions that other fleets have. Portonova added the biggest benefit of using biodiesel is the healthier choice they are making for their students.
Inspiration comments here: Inspiration Comments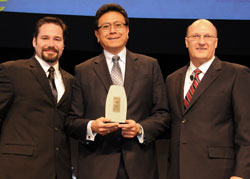 Our next award is the Innovation Award. Accepting was Frank Dela Vara, Director of Environmental Affairs, Disneyland Resort.
Innovation: Disneyland Resort. The resort is a national landmark whose effort to reduce emissions through biodiesel use displaces 200,000 gallons a year of petroleum diesel. Their innovative solution saved their iconic steam trains and is a shining example of biodiesel use.
Innovation comments here: Innovation Comments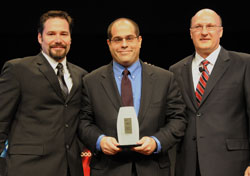 Next up was the Influence Award. Accepting was Keith Kerman, New York City Department of Parks & Recreation.

Influence: City of New York. New York City Department of Sanitation, and New York City Department of Parks and Recreation. City of New York Mayor Michael Bloomberg signed landmark air quality legislation that includes a provision requiring all heating oil sold within New York City to contain at least 2 percent biodiesel by October 1, 2012. By moving to environmentally-friendly Bioheat TM, the City will annually replace approximately 20 million gallons of petroleum-based heating fuel. The New York City Department of Sanitation uses biodiesel blends of B5-B20 in its 4,000 diesel vehicles, which include many large trucks and snow plows. The New York City Department of Parks and Recreation has operated its diverse fleet of vehicles as well as more than 130 buildings on B20-B100 blends since 2006. Because of these two departments' commitment to cleaner fuels, New York City is the nation's largest municipal user of biodiesel.
Influence comments here: Influence Comments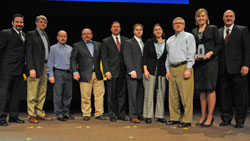 Our next award was the Initiative Award. Accepting were the Grassroots Team Captains and Alicia Clancy-REG.
Initiative: NBB Grassroots Team Captains. The NBB grassroots initiative empowers biodiesel industry leaders and supporters to influence public discussion. NBB's grassroots success has been heralded by Hill staff and trade groups alike. The successful program centers on team captains who carry out targeted objectives in their states. Since July 2009 the team captains have rallied contacts in key states to support a positive legislative framework for biodiesel. In just six weeks, NBB Grassroots Team Captains generated 8,000 comments on pending federal legislation. Their volunteer efforts have also led to countless earned media placements, successful site visits, and thousands of calls and letters to elected leaders. This group was critical in establishing the policy framework that exists today.
Initiative comments here: Initiative Comments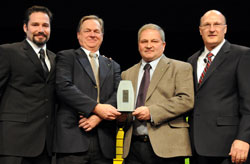 The Industry Partner Award was next. Accepting was Victor Bohuslavsky, Nebraska Soybean Board.
Industry Partnership: Nebraska Soybean Board. The Nebraska Soybean Board has been a leader among state soybean organizations in its support of biodiesel. Staff and farmer leaders regularly support and participate in critical biodiesel projects and events. For example, Nebraska recently hosted a delegation of oil heat leaders, a group that plans to blend 325 million gallons of biodiesel and wanted to see firsthand the source of the product. The Board also played a major role spearheading the largest proactive communications effort in industry history. They introduced new state soybean organizations to the biodiesel industry, and continue to support the industry through major investments in biodiesel projects.
Industry Partner comments here: Industry Partner Comments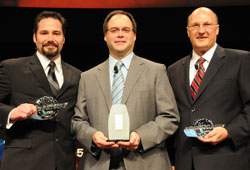 Our final award was the Impact Award. Accepting was Adam J. Gryglak, Chief Engineer, Powertrain Engineering for Ford. I actually interviewed him so I'll post that interview here for you.
Impact: Ford Motor Company. As a leader in the automotive industry, Ford Motor Company has again stepped to the forefront with its support for and promotion of biodiesel. Ford undertook the task of designing, engineering and manufacturing its entire lineup of all-new Ford F-Series Super Duty trucks with the specific goal of supporting the use of B20 biodiesel blends for all its diesel customers, starting in 2011 and beyond. Ford's investment into the intense research, development and testing efforts that led to that support are now signified by the silver B20 emblem that is proudly displayed on the side of every new Ford Super Duty diesel truck. Ford's continued support has made a significant impact on the marketplace, instilling even greater consumer confidence in biodiesel.
You can listen to my interview with Adam here: Interview with Adam Gryglak