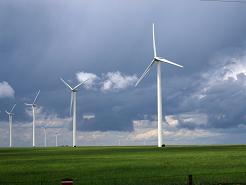 While Iowa might be best known for its ethanol and biodiesel industries, the Hawkeye State is also a leader in wind energy (with more than 1,100 wind turbines across the state) and would like to become bigger in solar. So it only makes sense that Iowa State University Extension will be sponsoring a Wind and Solar Energy Conference on March 2 at the Le Mars Convention Center, in Le Mars, Iowa (not too far from the Northwest Iowa wind turbines in the photograph):
"The conference addresses the latest research in Iowa's alternative energy," said Sherry McGill, ISU Extension regional director. "It gives Iowans the opportunity to learn how these alternative energy methods affect them legally and financially."
Speakers from the Iowa Energy Center, USDA Rural Development and Iowa State University will address various wind and solar energy topics, including legal considerations, planning and zoning, financing Iowa's energy industry and utility companies information.
Presentation highlights include Bill Haman of the Iowa Energy Center with an overview of wind and solar energy resources in "Wind Energy Resources in Iowa-The Bolts and Nuts" and "Solar Energy Resources in Iowa-An Alternative to Wind Energy".
Other conference speakers include Aaron Chittenden, city of West Des Moines; Erin Herbold, Iowa State University Center for Agricultural Law and Taxation; Bill Menner, USDA Rural Development; Mark Reinders, MidAmerican Energy Co. and entrepreneurs Gregg Heide and Paul Rekow.
Registration is just $35 before Feb. 22 ($45 after that). More information and registration is available here.