Two and a half years ago DuPont partnered with Danisco (whom DuPont is now acquiring) to create DuPont Danisco Cellulosic Ethanol (DDCE). In just a short amount of time, the venture has come a long way in bringing cellulosic fuels closer to commercial scale. During the Iowa Renewable Fuels Association's (IRFA) annual conference, Kyle Althoff, DDCE's Director of feedstock development gave an update on where the company was in the process of pilot to commercial scale fuels.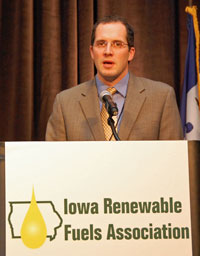 The company is currently focusing on two feedstocks: stover in the Midwest and switchgrass in a partnership with University of Tennessee. Today, DDCE is looking for cost-effective biochemical solutions to convert those feedstocks into fuels, chemicals and biofuel products. They currently have a 250,000 gallon demonstration plant near Vonore, TN up and operating and they plan on having a commercial scale plant in operation by 2013. It looks like the future site of that plant may be somewhere in Iowa.
This past year, DDCE did a corn stover test harvest in several states where they monitored everything from the storage of the materials and different moisture contents through the logistics of the equipment in the field, to collecting data on the GPS movements, to speed and fuel usage of these implements. The program this year is focused on providing answers not only to for their plant, but also for their customers' plants.
Today, Althoff said they are "focused on creating good technology for the industry and working with customers that can bring that technology into production." They are also working on optimizing the technology to harvest biomass feedstocks, the economics as well as sustainability and working on best practices to ensure the company meets all of these needs.
Listen to or download Kyle's presentation at the IRFA here: Kyle Althoff presentation. Download Kyle's slides here.