Maas Companies of Rochester, Minn. is coordinating an online auction of the sale of Sustainable Energy's brand new 600 tons/day Hexane Extraction Equipment. The timed, online auction will take place on Monday, February 7, 2011 and end on Friday, February 18, 2011 at 5:00 p.m. EST. Maas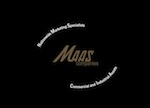 specializes in the selling of ethanol and biodiesel plants and related equipment. This equipment was manufactured by Crown Iron Works for a biodiesel plant expansion, however, the equipment was never installed and is now ready and waiting to be loaded up and sent to its new home.
Buyers who are interested in participating in this online only auction, will need to submit bids via Proxibid and supply the seller with a $50,000 deposit. Final and in full payment is due no later than February 22, 2011. At that time, the equipment will be loaded and transported to the new owner.
Tyler Maas, Sales & Marketing Director said, "The on-line timed auction offers this equipment to a new buyer at a significant savings over new construction. During tighter economic times, a savings on equipment can enhance a plant's bottom line."
A complete package detailing the bidding process is available by contacting the auction company directly at 507-285-1444. Information can also be found at the company's website, www.maascompanies.com.