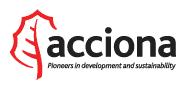 Spanish wind energy company Acciona Energy is building its second wind farm in Oklahoma.
This story from Eco Friend News.com says the Dempsey Ridge Wind Farm located in Roger Mills County, Oklahoma will produce 132 megawatts and will take about a year to build:
The Dempsey Ridge Wind Farm is located just 15 miles west of ACCIONA Energy's 123-MW Red Hills Wind Farm that was put into service in June 2009. The project will create enough clean energy to power around 46,000 homes in Oklahoma and surrounding states and will avoid the emission of approximately 339,000 metric tons of CO2 per year from conventional power plants.
"Oklahoma is a state that understands energy and has embraced wind as a plentiful and lucrative resource for the future. We are pleased to extend our commitment to this state and this community with the construction of the Dempsey Ridge project. Oklahoma already ranks in the top 10 U.S. states for wind energy potential and this project is another step in the direction of realizing that potential," said Dan Foley, Chief Development Officer, ACCIONA Energy North America.
The 66 wind turbine farm will be spread out over more than 10,000 acres.
Acciona currently has five wind farms in the U.S., four of them 100 percent owned by the company, including the 180 MW the Tatanka Wind Farm in North and South Dakota; the 11.8 MW Velva Wind Farm, also in North Dakota; the 100.5 MW EcoGrove Wind Farm in Illinois; and now the Red Hills Wind Farm. The company also has a stake in the 74,25 MW Blue Canyon Wind Farm in Oklahoma.