U.S. Senator Tom Harkin (D-IA) introduced a new piece of legislation today, called the "Biofuels Market Expansion Act of 2011."  The bill, if passed, would ensure an increasing number of automobiles in the U.S. be flexible fuel vehicles (FFVs), expands the number of blender pumps and make renewable fuel pipelines eligible for the federal loan guarantee pipeline program. The bill is co-sponsored by Senators Tim Johnson (D-SD), Richard Lugar (R-IN), Amy Klobuchar (D-MN), and Al Franken (D-MN).
"While we appreciate the fact that the EPA is taking steps to approve E15, the ensuing litigation by opposing groups and red tape of the agency's E15 pump labeling rule is creating a great deal of uncertainty about when E15 will be made available," said Brian Jennings, Executive Vice President of the American Coalition for Ethanol (ACE) who is hosting a "Biofuels Beltway March" at the end of March.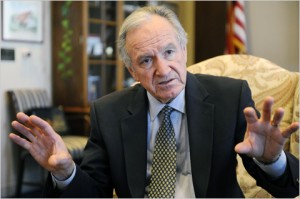 Jennings continued, "Consumers deserve the kind of fuel choice that can only be achieved if there is a blender pump on every corner and an FFV in every garage. We must begin building flexibility into our nation's fuel system so the power to choose the best fuel is put into the hands of the consumer – and not decided by EPA bureaucrats or by the oil industry through a de facto 90 percent petroleum mandate."
"Flexible fuel vehicles and blender pumps allow a wide range of fuels to be offered by the gas stations and selected by the motorists, ensuring that homegrown renewable fuels have access to the marketplace and that motorists have the ability to choose the best fuel for their own vehicle.  We fully support the Harkin-Johnson market expansion bill and encourage their colleagues to sign on in support so that the legislation can move forward."
The bill would require 50 percent of vehicles for sale in the U.S. to be flex-fuel vehicles in model years 2014 and 2015, and 90 percent to be FFVs in model year 2016 and after. The legislation also authorizes a grant program for the installation of blender pumps.