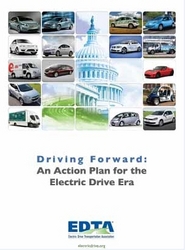 The Electric Drive Transportation Association (EDTA) has released an action plan to help accelerate the growth of hybrid, plug-in, battery and fuel cell vehicles in the U.S. "Driving Forward: An Action Plan for the Electric Drive Era," encourages public-private sector collaboration, encourages electric vehicle (EV) infrastructure development and outlines policies to speed up EV adoption.
"The nation is at an energy policy crossroads. Electric drive technologies – those available today and those on the horizon – can help the U.S. increase its energy security, spend more of its energy dollars domestically, expand competitiveness and create jobs – while creating a healthier environment, " said EDTA President Brian Wynne. "The policies we are recommending will accelerate the opening of the electric drive era and ensure U.S. leadership in the effort."
EDTA's next-step policy recommendations will:
* Reduce market hurdles to speed deployment of electric drive vehicles.
* Educate consumers, communities and stakeholders about these new vehicles and charging options.
* Ensure U.S. leadership in electric drive manufacturing.
* Standardize regulatory policies for electric drive vehicles and infrastructure.
* Accelerate technology breakthroughs.
Many experts believe that within the next 40 years, EV's could have a solid hold on the marketplace. But to get there, more policies will need to be put in place to ensure both the infrastructure is in place as well as a variety of vehicles are available and on the road. EDTA is specifically recommending policies that will ensure these two things happen at an accelerated pace.
Other barriers to greater EV adoption include price and the EDTA encourage polices that will aid consumers in the purchase of EVs. These policies will also help manufacturers reach economies of scale in vehicle and component production, a necessity to drive down costs. In addition the plan call for legislation that will help the U.S. keep its current competitive advantage, which also keeps manufacturing and R&D jobs in the U.S., and finally the action plan asks for more coordination between regulators, technology leaders and stakeholders to ensure growth.