The Cimarron Solar Facility is online in New Mexico and is now powering nearly 9,000 homes with solar energy. The project is a partnership between Southern Company and Ted Turner (Turner Renewable Energy) and the power is being supplied through a 25-year power purchase agreement to member electric cooperatives of Denver-based Tri-State Generation and Transmission Association. First Solar developed and constructed the facility and will continue to operate and maintain the site.
"This is a key milestone for Southern Company as we steadily incorporate more renewables into our energy portfolio," said Southern Company Chairman, President and CEO Tom Fanning. "Renewables, along with new nuclear, increased energy efficiency, 21st century coal technology and additional natural gas, all will be crucial to meeting this nation's growing energy demand."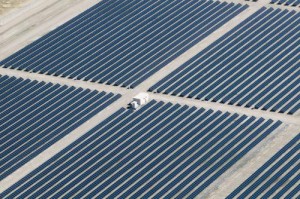 The 364-acre plant site is located within the service territory of Tri-State member system Springer Electric Cooperative in Colfax County, New Mexico and is adjacent to Turner's Vermejo Park Ranch. The partners acquired the project from First Solar back in March of 2011. Initially expected to go on line by the end of 2010, the facility was completed in eight months and began commercial operation in early December.
Turner said of the project, "We are very excited to see this project completed and producing clean solar energy to power homes and businesses in New Mexico. Large-scale solar generation is among the fastest growing energy sources in the world, and we're pleased that we can be a part of that growth."
Frank De Rosa, Senior Vice President of Project Development for First Solar concluded, "The Cimarron Solar Facility demonstrates First Solar's capabilities in utility scale projects. Integrating technology, manufacturing, project development and engineering, procurement and construction expertise enables First Solar to be a leader in sustainable energy development."