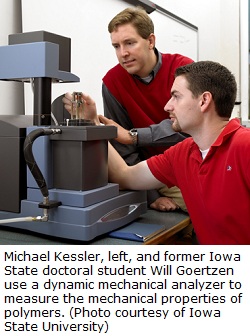 Researchers at Iowa State University are developing polymers made from vegetable oils that repair themselves.
This press release from the school says Michael Kessler, an Iowa State University professor and an associate of the U.S. Department of Energy's Ames Laboratory, is working on the technology:
"If successful, the results of this research will provide biorenewable alternatives to petroleum-based resins," says a summary of Kessler's research project. Successfully developing the concept "should have a huge impact economically and environmentally."
Kessler's research project is supported by a five-year, $400,000 grant from the National Science Foundation's Faculty Early Career Development Program…
The technology has evolved into a system that embeds catalysts and microcapsules containing a liquid healing agent within a composite. As cracks develop in the composite, they rupture the microcapsules and release the healing agent. The healing agent contacts the catalyst and reacts by forming 3-D polymer chains that fill the cracks. That increases material lifetimes and reduces maintenance.
Kessler has collaborated with fellow Iowa State and Ames Laboratory researcher Richard Larock, who has invented and patented a process for producing various bioplastics from inexpensive natural oils, which make up 40 percent to 80 percent of the plastics.