From what I'm hearing from my friends back up north, it's been a particularly tough winter, especially in Minneapolis, where snowfall has been plentiful this year. Remember the collapse of the Metrodome? (By the way, to my friends shivering their way through another below-zero, snowy night, a balmy 70 degrees in south Texas today).
But Corn & Soybean Digest reports that a biodiesel-powered Snow Dragon is helping the city battle back by melting 30 tons of snow an hour: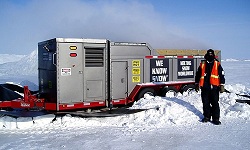 The snow melter's 9-million-BTU boiler separates pollutants and trash from the water, which is then sent down a storm drain cleaner than when it was snow.
The melter is being used primarily around parking meters and intersections. The only municipally owned snow melter in Minnesota, the city received federal funds to help purchase it as part of a transit upgrade.
The Snow Dragon helped clear the field when the Vikings had to move their last home game to the University of Minnesota's outdoor stadium. Now, if it could just help my Vikes chalk up a few more wins next season!