Last week EcoTrek's "Best of America Tour" kicked off at the Pier of Santa Monica. On Friday, January 14th, the EcoTrek truck made a tour stop at the California Ethanol Symposium. I had the chance to check out the EcoTrek truck and spend some time with Tom Holm the Executive Director of the EcoTrek Foundation and the creator of the Best of America Tour.
Holm said he had an idea to build an American made vehicle and accessorize it with American made parts. He explained that not only does this show patriotism, but also demonstrates the environmental impact of shipping products into America – it increases pollution and fossil fuel use while American made products reduces these issues. The truck features tires made from "clean" oil, faux leather from recycled plastics, the doors will be made from a corn product, and more. And the fuel that the truck will be powered with is E85 cellulosic ethanol produced from corn cobs and light stover provided by POET who is in the process of building the first commercial corn corn and stover cellulosic ethanol plant in Emmetsburg, Iowa known as Project Liberty.
"We're taking an American-made pickup truck, outfitting it with American-made accessories and powering it with American-made advanced cellulosic fuels in order to emphasize our ability to be gentler to the environment, while bolstering American's economy, national security, and independence from foreign oil," said Holm.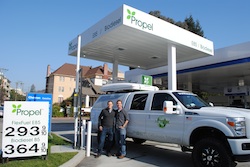 The tour will visit consumers, organizations, and politicians across the country during the next two months and along the way will stop and participate in preservation projects. In fact, today, the tour made a stop in Sacramento where they met with several environmental organizations to discuss renewable energy and along the way stopped at a Propel Fuels' station for a quick consumer promotion.
"Propel, EcoTrek, and POET each represent critical pieces to reducing our dependence on petroleum; widespread consumer access, advanced vehicle technologies, and the next generation of renewable fuels," said Matt Horton, CEO of Propel Fuels. "Today we're getting a preview of ultra-low carbon fuels from non-food sources, representing the next level of sustainability for fuels that can run in our vehicles today."
You can follow along the tour by visiting www.ecotrek.com. You can view photos from my flickr California Ethanol Symposium photo album here.