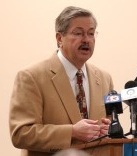 He's soon-to-be the new leader of the state that is certainly a leader in biodiesel and ethanol, so it only makes sense that incoming Iowa Governor Terry Branstad will address the 5th Annual Iowa Renewable Fuels Summit on January 25th.
"This will not be the first Iowa Renewable Fuels Summit that Gov. Branstad has attended," said IRFA Executive Director Monte Shaw. "Before, he attended as an investor in Iowa renewable fuels refineries. Now as Governor, we're excited to hear his vision for enhancing Iowa's status as a leader in renewable fuels production and public policy."

Governor-Elect Branstad is scheduled to address the Summit at 10:00 a.m. Other speakers include NASCAR Champion Rusty Wallace and Renewable Fuels Association's Bob Dinneen. Program highlights for this year's Summit include, "E15: Bringing More Fuel Choices to Iowa," "Iowa Biodiesel Resurgence," and "Advanced Biofuels – A Turing Point for Renewable Energy."
The IRFA points out that Iowa has 41 ethanol refineries able to produce nearly 3.7 billion gallons annually and 12 biodiesel facilities with the capacity to produce 315 million gallons each year.
The free summit and trade show will be held at the Polk County Convention Complex in Des Moines. Pre-register online at www.IowaRFA.org.