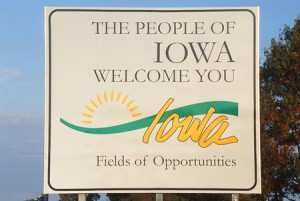 The state of Iowa continues its monopoly over ethanol plants today with the announcement that the Iowa Power Fund has awarded DuPont Danisco (DDCE) a $9 million grant to build a cellulosic ethanol plant in either Story or Webster County. The biorefinery will use corncobs, leaves and stalks to produce cellulosic ethanol.
Interestingly, should the plant be sited in Emmetsburg, Iowa, located in Webster County, it will be within spitting distance of POET's Project Liberty, their version of a cellulosic plant that will use corn cobs and stover to produce ethanol and is expected to be in production by 2012. This news comes on the heels of the announcement that DuPont is buying Danisco for a reported $6.3 billion.
The grant is $10 million less than what DDCE requested. Regardless, the company anticipates that once a final decision is made on location the plant will be operational in 2013. Iowa, a state that already has 40 corn-ethanol plants, beat out Nebraska for the project.
"We had an attractive offer from Nebraska," said Jennifer Allison Hutchins in an article in the Des Moines Register. She is a spokeswoman for the DuPont/Danisco partnership. "But Iowa's offer was good as well, and we felt that Iowa offered a better source of feedstock and rail availability."
According to the Register, other possible plant locations include Nevada, Iowa next to the operational, Lincolnway Energy ethanol plant or west of Fort Dodge near an operational Valero Energy plant. Another option is to locate it next to a plant that has suspended construction owned by British corn processor Tate & Lyle.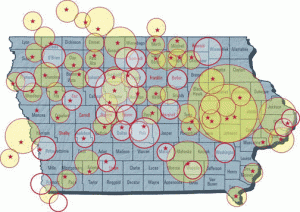 The reason the offer to DDCE was reduced by the Iowa Power Fund stemmed form a failure to agree on terms of "success payments" or licensing fees from orginal technology that Power Fund recipients may develop with state money. POET, who received a $14.25 million grant, agreed to share these fees.
Roya Stanley, director of the Iowa Office of Energy Independence, which administers the fund, said in the Register that Iowa is the right choice to develop next generation ethanol technologies. Several experiments on harvesting and collecting have already taken place although there is still work to be done.
"The use of corn cellulose will firm up Iowa's place in ethanol production into the next generation. This gives Iowa opportunities to experiment and work on the harvest and collection of corn stover. With several experiments in harvesting, collection and storage in place, Iowa can stay ahead in the long-term development of biofuels," Stanley concluded.