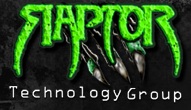 No, it's not a scene from Jurassic Park where the dinosaurs become environmentally conscious, but rather, a company that Raptor Technology Group, Inc. is in the process of acquiring has started up a new biodiesel plant.

This company press release says Raptor Fabrication and Equipment, Inc. got the first batch of ASTM certified biodiesel and will now begin its commercial production of biodiesel fuel at Fort Lauderdale-based Greenwave Biodiesel's 3.6 million-gallon-a-year refinery, using Raptor's mid-sized, multi-feedstock production system:

"The Greenwave plant is our first launch of the new year and we have introduced exciting new remote monitoring technology in the plant giving us the ability to monitor production and diagnose any problems increasing overall production and customer satisfaction," said Tom Gleason, President and CEO of Raptor Fabrication and Equipment. "With the reinstatement of the federal biodiesel tax-credit and facilities we currently have in production for customers, 2011 is expected to be a strong year for Raptor," added Gleason.