It should be an interesting year in the biofuels debate. The response to our latest poll shows some pretty divided results which might make it interesting to see how Congress handles things after hearing from their constituents. In answer to the question "What do you think will happen with biofuels policy this year?" Our results are that 38% say there will be another one year extension of the tax incentive, 22% say there will be new incentives for infrastructure, 20% say there will be no federal biofuels incentives, 14% say there will be a multiple year extension and 6% chose other. If you chose other then feel free to comment with what you think will happen.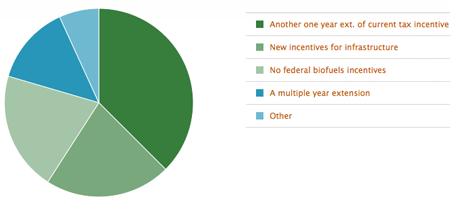 Our next ZimmPoll is now live and asks the question, "What do you think about the number of farm groups? Let us know what you think and thank you for participating.
ZimmPoll is sponsored by Rhea+Kaiser, a full-service advertising/public relations agency.