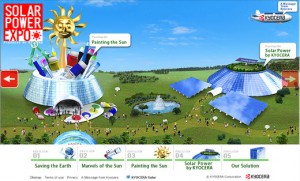 Kyocera Corporation has launched a new fun, interactive and educational website aimed at people of all ages to learn about solar energy and its role in combating global environmental concerns. The "Solar Power Expo" website is designed to give the student the experience of visiting a large outdoor solar power exposition with five unique pavilions featuring diverse themes. With engaging and fun visuals and music, visitors can look around the pavilions interacting with various features that introduce the marvel of solar power, the history of the company's solar power business, and the various environmental activities that they are engaged in. Previously only in Japanese, the site is now available in English to help reach a larger audience.
The five solar learning pavilions include:
Pavilion 1: SAVING THE EARTH – An introduction with photos and graphs to the environmental problems the world faces, and the solutions that are available through solar power.
Pavilion 2: MARVELS OF THE SUN – Watch a six minute video with music illustrating the history, makeup and secrets of the sun.
Pavilion 3: PAINTING THE SUN – An exhibition of sun-related drawings by children from around the world.
Pavilion 4: SOLAR POWER BY KYOCERA – Features diagrams explaining how solar energy is converted into electricity by the photovoltaic effect. Also, a history of Kyocera's solar power business activities since 1975.
Pavilion 5: OUR SOLUTION – An outline of the solutions the Kyocera Group is working towards. Along with an introduction to the environmental and social responsibility activities of the Group.
The Kyocera Corporation was founded more than half a century ago, and has been involved in the solar power business for more than 35 years. The company  has been proactive in research, development and the promotion of solar power along with its other environmental activities. With the Solar Power Expo, Kyocera hopes to help increase awareness about environmental issues and the amazing capabilities of solar power as a clean energy source.