The Environmental Protection Agency (EPA) has announced that they will be delaying any decisions on greenhouse gas permitting requirements (GHG) for carbon dioxide from biomass combustion and other biogenic emissions. Last fall, the EPA said that they were considering adding these types of emissions to the required reporting under the Renewable Fuels Standard (RFS2) Tailoring Rule. With this news, the Renewable Fuels Association (RFA) expressed gratitude.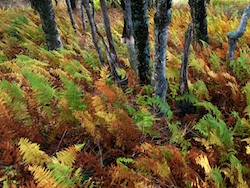 "EPA's deferral of permitting requirements for biogenic emissions sources is good news and it is the right step, given that the science clearly shows using biomass for energy does not add to atmospheric CO2 levels on a net basis," said RFA President Bob Dinneen. "Failure to exempt biogenic ethanol fermentation emissions from the GHG Tailoring Rule's permitting requirements would have been unnecessarily costly and burdensome for our industry. Inclusion of biogenic fermentation emissions meant the permitting requirements would have applied to many ethanol plants that otherwise would not have been subjected to requirements. We appreciate EPA's sensible approach to this complex issue and look forward to working with the agency on a commonsense solution."
Agriculture Secretary Vilsack also made remarks about the delayed ruling. "I strongly support EPA's announcement today that it is starting an expedited rulemaking so that it can defer for three years greenhouse gas permitting requirements for biomass and that it is also undertaking a scientific assessment of how emissions from biomass should be treated under the Clean Air Act."
Vilsack continued, "America's forest owners, farmers and ranchers can play a crucial role in providing renewable energy from wood, switch grass and other agricultural products. Homegrown energy can provide jobs in rural America while reducing greenhouse gases. Markets for woody biomass in particular can be especially important in allowing the US Forest Service and other landowners to reduce the threat of catastrophic wildfire while restoring more natural conditions in our forests. EPA's action today will provide the agency with the time it needs to ensure that greenhouse gas policies properly account for the emissions and carbon sequestration associated with biomass."
The deferment of a decision means for the time being, biogenic CO2 emissions from ethanol fermentation will not be subject to newly enacted permitting requirements under EPA's GHG Tailoring Rule for at least three years. In the past, biogenic emissions had never been considered for monitoring because they are naturally occurring as plants die and decay and their emissions are offset when the carbon is removed from the environment by living, thriving plants – a process known as photosynthesis.
Therefore, the industry was alarmed when the EPA failed to exempt biogenic carbon emissions from determinations of the applicability of the Prevention of Significant Deterioration and Title V Permitting Programs under the GHG Tailoring Rule. You read a history of RFA's comments on the issue to the EPA here.