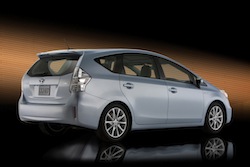 Before there was the Chevy Volt and the Nissan Leaf there was the Toyota Prius. Today, Toyota unveiled the new Prius family of vehicles during the 2011 North American International Auto Show. In addition to the current third-generation Prius and the Prius Plug-in Hybrid Vehicle (PHV), the company is adding the Prius v midsize hybrid electric vehicle and the Prius c Concept vehicle. The new additions are an attempt to broaden the consumer appeal of the car.
"This is no ordinary family. It's a modern family with a Prius for everyone," said Bob Carter, Toyota Division group vice president and general manager. "The Prius v is an all-new dedicated hybrid vehicle, and all future Prius family members will be as well. They will all share common Prius attributes but will be unique, with a special appeal to different buyers."
The Prius midsize liftback has accounted for more than 955,000 sales in the U.S. since it was introduced in 2000. The third-generation Prius, which reached dealerships in June 2009, has continued the hybrid's heritage of exceptional fuel economy and low emissions, while becoming the third-best selling Toyota passenger car in the U.S. The third generation version introduced some new car concepts including the Solar Powered ventilation, Smart Key System with Push Button Start, Lane Keep Assist, an Advanced Parking Guidance System and LED headlamps.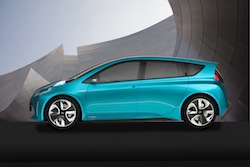 The new Prius v, with "v" expressing the vehicle's versatility,will feature a more interior cargo space than the current Prius and is designed for growing families and those with more active lifestyles. On the opposite spectrum, compact shoppers interested in a smaller hybrid at an entry price point and with superior fuel economy will be interested in the Prius c Concept, with c representing a "city"-centric vehicle. It is designed for hip, young singles and couples who want an eco-sensitive, high-mileage and fun-to-drive car.