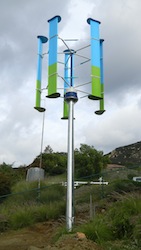 San Diego, California has approved the first vertical axis wind turbine for the county. Not soon after, the first one has gone live at the home of Tim Williams, who has a personal mission to "go green". His 3.4 kW Falcon turbine from WePOWER was installed on an 18′ pole on his property by Joe Moore Construction, an authorized WePOWER dealer.
According to a news release, Joe Moore had to appear before the County Building Department and present the WePOWER's Falcon Turbine for approval. Unlike traditional prop-style turbines, this one is virtually vibration, noise and maintenance free and is safe for birds and bats. But that was only half the battle. A qualified third party had to inspect and approve the product and TUV SUD America, Inc. did just that.
With the work of William and Moore, other residents and businesses in San Diego County can install wind power. Other global customers of WePOWER include Lockheed Martin, AT&T, Best Buy, Tata Energy, and others.
In addition to the 3.4 kW Falcon turbine, WePOWER also has other products including 600W, 1.2kW, 3.4kW, 5.5kW and 12kW turbines. The turbines are approved by the California Energy Commission (CEC) and with the federal tax package that was signed at the end of last year, they also quality for federal tax credits.