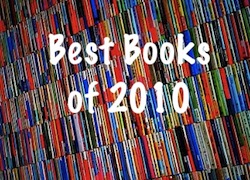 There are a few things I have learned over the last two years of reviewing books. First, no matter how much you "dislike", or disagree with an author, you always learn something from him or her  – always. Second, there are always two sides to every story and we all need to do a better job of learning more about both sides.
With those thoughts, now onto the real purpose of this blog: my top books of 2010.
Best Economic Book: The Economics of Food by Patrick Westhoff
Best Environmental Book: Green Gone Wrong by Heather Rogers
Best Energy Book: The End of Energy Obesity by Peter Tertzakian
Best Global Warming Conspiracy Book: Energy & Climate Wars by Peter C. Glover and Michael Economides
Most Fun to Read: No Impact Man by Colin Beavan
Best Book of 2010: The Boy who Harnessed the Wind: by William Kamkwanba
If you have an idea for a book that you would like me to review in 2011, please send me an email at altenergyblogger@hotmail.com. Happy Holidays, thanks for reading DomesticFuel and may 2011 bring you much health and happiness.