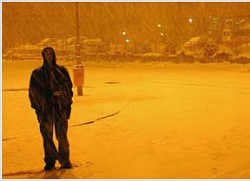 Two feet of snow in New York City (By the way, see the New Era Pinstripe Bowl from a frozen Yankee stadium? Imagine what might happen in the 2014 Super Bowl in the Big Apple. But I digress…) has not only made it tough on the folks in that city, but it's also giving biodiesel makers and distributors in the area fits.

Biodiesel Magazine reports that the snow has caused travel issues for rail transport, the main method of getting biodiesel into the city:
According to Daniel Falcone, northeast wholesale manager for Ultra Green Energy Services LLC, most biodiesel entering the New York metro market is currently transported via rail.
The New York biodiesel market is still maturing, Falcone said, which means there is not a lot of product storage available locally. To keep the supply of biodiesel moving to customers, it is important to ensure that the supply is reliably entering the market. "With snowstorms like this, it affects the rail by freezing switches and burying lines so that you're railcars can't come in," Falcone continued. "We were fortunate," he said, "because we had just received a shipment of biodiesel, which meant that we were able to store more product prior to the storm. We were just lucky enough where the rail made the switch so that we had additional bio stored for at least a week or two worth of sales," Falcone said.
He said the biodiesel market in New York City will continue to mature as the city works to implement its pending B2 mandate for home heating oil. This means that more biodiesel will be entering the market, and significantly more storage and blending capacity will be brought online. This should translate into a more extensive supply chain that is less susceptible to weather-related incidents.
Further south, North Carolina got a lot less snow, but the article says it hit the biodiesel industry even harder. Piedmont Biofuels faced real challenges in collecting waste grease that it turns into the green fuel.
But my friends at METRO Energy in New York did post this Facebook message at the height of the storm: "METRO wants you to know that even though you would expect to see polar bears and snowmen outside, you can also depending on seeing METRO trucks out on the road." Maybe some just persevered a little bit more in the face of adversity. Typical of those biodiesel makers, isn't it?