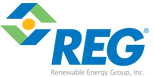 Iowa-based Renewable Energy Group (REG) has been named the biofuels industry's "Commercial-Scale Technology of the Year" by Biofuels Digest.
REG's ability to acquire refineries and feedstocks helped the company garner the award:
According to the announcement, "Renewable Energy Group was honored for its novel continuous-flow, multi-feedstock processing technology that has allowed the company to pioneer the acquisition of a wide variety of hard-to-process, low-cost feedstocks such as tallows and yellow grease."
"Renewable Energy Group's fully-integrated procurement, production, technology, service and marketing platform allowed us to incorporate new facilities to more efficiently produce large volumes of ASTM-specification exceeding biodiesel," explained Brad Albin, Vice President, Manufacturing for Ames, Iowa-based Renewable Energy Group. "Our commitment to redefining quality is key in our commercial-scale biodiesel operations."
This past year was a particularly good one for REG, as it picked six businesses including three production-stage, commercial-scale biodiesel plants and one facility under construction.
"We continue to explore additional opportunities for mergers, acquisitions, consolidations and partnerships in order to actively expand our technology and patent portfolio and meet customer demand," said Keith Olson, Executive Director, Corporate Finance and Investment Banking for Renewable Energy Group.
Among the many other winners in the annual Biofuels Digest awards was algae-to-biofuel developer Solazyme.