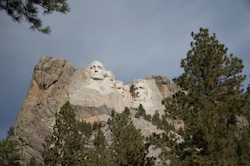 When nearly 5,000 South Dakota fourth graders return to school after the holidays, they will be getting some new lesson plans. They will be learning about alternative energy including ethanol, wind and hydroelectricity as well as conservation and other green practices. The lessons have been added to the 2011 "South Dakota Road Trip," a 13-week virtual tour of the state used in the classrooms to help the students learn about the state's history.
"South Dakota and the entire Midwest has had a profound impact on our nation's energy supply, and that impact will grow many times over in the future," POET CEO Jeff Broin said. "I'm glad that POET can help students learn about that rich history and hope it will inspire some of them to get involved in this exciting field in the future."
Beginning in January, during each lesson, students will travel across South Dakota learning about significant historical figures, events, industries, and culture. Along the way, they'll stop at places including a farm, an ethanol plant and a racetrack to learn about the different stages of ethanol production. Students will also stop at a windmill to learn about the evolution of wind energy and the Oahe Dam to learn about hydroelectric power. This is just a sampling of the places the students will go.
There is also a health element in the program."Students learn about the environment and healthy habits related to the town's name and history, making it a fun and interesting way to learn about healthy lifestyles," said Marsha Kucker, owner of Education Resource Center of South Dakota.
The curriculum is being finalized for use in January 2011. The project was developed by the Education Resource Center of South Dakota in partnership with Avera Health. South Dakota State University provided graphic design and programming and POET sponsored the alternative energy sections. If you would like to request a copy of the curriculum or enroll your student, please contact Julia Miller at 605-265-5555 or via email.