AC Propulsion, a company that specializes in electric drive development, has been awarded a $300,000 grant from the South Coast Air Quality Management District (AQMD) to integrate its electric drive system technology into commercial vans operating in Southern California. The company will launch the conversion program by developing the electric propulsion system and conversion process for full-size vans that are used in service fleets.
"AC Propulsion's electric drive system is proven and patented to work for a broad range of vehicles," said Tom Gage, CEO of AC Propulsion. "The grant from AQMD is allowing us the opportunity to take gasoline-fueled commercial trucks and replace all of the components that contribute to air pollution with a zero-emissions system."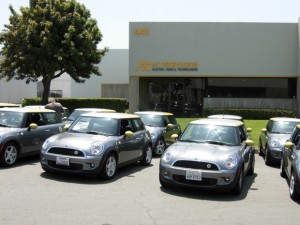 The converted vans will be zero emission plug in electric vehicles. The first phase of the project will include the conversion of three vehicles that will be evaluated by several service industry partners. The first vehicle will be a developmental prototype, the second vehicle will be utilized for safety and crash testing and the third will go to in-use testing. The first conversion vehicle is slated for road testing in early summer 2011.
"Cleaner technologies such as AC Propulsion's electric drive system have great potential to help improve air quality in Southern California through cleaner vehicle fleets," said Barry Wallerstein, AQMD's Executive Officer.
AC Propulsion was awarded the $300,000 grant out of a total program budget of $750,000. The concept for the conversion van program evolved through a collaboration between AC Propulsion and AutoPort, Inc., an automobile conversion company located in New Castle, Delaware.