"With bipartisan leadership from Senators Cantwell, Feinstein, Ensign and LeMieux, the Senate made clear today that it is serious about protecting American jobs," said Rhone Resch, the President and CEO of the Solar Energy Industries Association (SEIA) yesterday after the Senate voted to pass the one-year extension of various tax incentives that fall under the Department of Treasury Section 1603 program.
Resch continued, "Since its passage, the 1603 program has successfully created jobs and opportunity in all 50 states for construction workers, electricians, plumbers, and contractors that have struggled during this difficult economic climate. An extension will help the solar industry remain one of the fastest growing industries in America and create thousands of new careers. With passage now complete in the Senate, it is critical that the House moves swiftly to pass this bill and send to the President for his signature. Tens of thousands of jobs depend on it."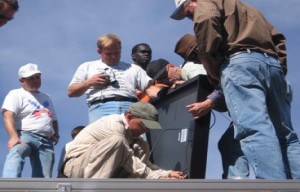 The program that was extended for one year was created as part of the American Recovery and Reinvestment Act (Section 1603) to help drive economic growth through the growth of "green jobs." More specifically, 1603 gave commercial solar installations a cash grant in lieu of the 30 percent solar investment tax credit (ITC) that President Bush signed into law in 2008. The tax credit was difficult for most to take advantage of during the global recession, that still remains as 2010 comes to an end.
The program refined in Section 1603 appears to be working. According to SEIA, the TGP has helped move forward more than 1,100 solar projects in 42 states and supported $18 billion in investment. The program has been critical in allowing the solar industry to grow by over 100 percent in 2010, create enough new solar capacity to power 200,000 homes and provide work to more than 93,000 Americans.