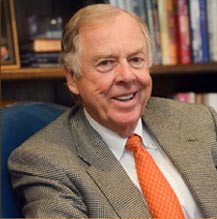 A couple of years ago, T. Boone Pickens unveiled a plan that would use wind energy and natural gas to help America kick its foreign petroleum habit.
But after a couple of setbacks trying to start a mega wind farm in Texas (and now possibly in Canada), the billionaire oilman is changing gears, and Mother Nature Network reports he is leaving wind out of the mix:
The new Pickens Plan calls for Congress to pass legislation that will incentivize the conversion of 18-wheel trucks to compressed natural gas (CNG). This conversion, according to a report on msnbc.com, would "cut in half the amount of oil imported to United States," if just eight million of the tractor-trailers in the United States switched to CNG.
So what's the issue? Well, some are saying Pickens' 45% ownership in a company called Clean Energy Fuels is his sole motivation. Clean Energy Fuels makes natural gas filling equipment for buses and other large vehicles.
The story goes on to point out that Pickens aims to make hundreds of millions of dollars from his natural gas portion.