A five-solar site project broke ground today in New Mexico, when completed will provide residents of Lea and Eddy counties more than 112 million kilowatts hours of solar energy per year. The 54 MW photovoltaic solar project will be spread out over five separate sites and will help utility provider Xcel Energy meet the state's renewable portfolio standard that requires 15 percent of all electricity must be from renewable sources by 2020. The full project is expected to be completed by the end of 2011 and is being designed by SunEdison, a subsidiary of MEMC Electronic Materials.
"Xcel Energy has built its reputation on responsible stewardship of our environment while meeting customer expectations for innovation, reliability and competitively priced energy," said Riley Hill, president and CEO of Southwestern Public Service Company, an Xcel Energy company. "The SunEdison project positions us as a leading provider of solar power and a reliable partner in the development of a renewable energy economy in New Mexico."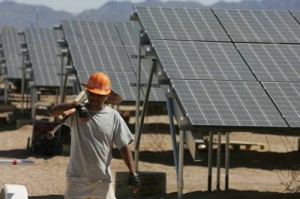 The five installations will be built, financed and maintained by SunEdison, under a 20-year solar power services agreement with Xcel Energy, which will buy the solar energy generated by the solar power plants. Once constructed, the 54MW deployment will be the largest in New Mexico. It is expected that the project will generate more than 2 million megawatt hours of solar energy over twenty years—enough energy to power more than 192,000 average U.S. homes for one year, according to a company press release.
"I commend SunEdison and Xcel Energy for locating this sustainable energy project in southeast New Mexico," said State Senator Caroll Leavell who attended the ground breading ceremony. "Lea and Eddy counties embrace oil, gas and nuclear and this will further diversify our local economy as well as the energy security of the nation. It is special that one of the five units will be located on Woolworth Trust property. This private trust funds the Jal Senior Citizen's Center and Woolworth Library. This project will benefit our citizens for years into the future."
Carlos Domenech, President of SunEdison concluded, "SunEdison is proud of our continued relationship with Xcel Energy. Having recently activated a 70MW deployment in Italy, SunEdison has proven our ability to construct and finance large utility-scale solar deployments. We look forward to working with Xcel Energy in helping them reach their renewable energy goals."