According to CABI and Hart Energy Consulting, while there has been much attention given to the idea that biofuel development will change land use around the world, there are still many gaps in knowledge about how much and in what ways those changes will manifest. To determine where more information about land use change is needed, the two organizations worked together to author a new paper, "Biofuels and Land Use Change: A Science and Policy Review."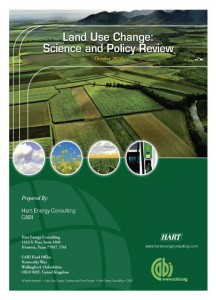 The report sets forth the premise that while two goals of biofuel production are to reduce greenhouse gases and to protect natural resources, they may in fact exacerbate the problems rather than help them. Therefore the report recommends that before decisions are made, future monitoring, experimenting and modeling in different locations must take place in an effort to assess the true impact of changing land use caused by biofuel production.
"There is a need to establish standard methodologies to evaluate the wide range of effects, direct and indirect, that ensue from the growing global biofuels market. This would enable much greater confidence when comparing future studies and enable decision-makers to make more informed judgments," said Tammy Klein, Assistant Vice President of Hart Energy Consulting.
According to the report, "marginal, abandoned, degraded and unused lands" are really the only possible sources of significant land for biofuel expansion. Yet the report continues, it is these very lands that are rarely quantified and so the report asks how much of this type of land is available and what problems would need to be overcome to bring these lands into production.
In conclusion, the report calls for the establishment of effective land-use management and best agriculture practice policies for biofuels feedstock crops.
"The switch away from fossil fuels to renewable alternatives will have unforeseen consequences, especially for highly populated resource-poor countries," said Janny Vos, Business Development Manager of CABI. "At present the role of biofuels in this process is unclear. We hope that this review goes some way towards identifying the questions that need to be asked about land use change, and the areas in which we need further research."