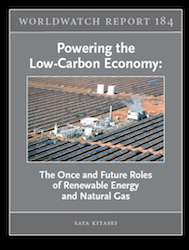 Is, and should, natural gas be a viable partner in the movement to a low-carbon future? This was the question asked and answered in a new report published by the Worldwatch Institute and authored by Worldwatch Sustainable Energy Fellow Saya Kitasei. "Powering the Low-Carbon Economy: The Once and Future Roles of Renewable Energy and Natural Gas," concludes that natural gas and renewable energy such as wind and solar, could form a powerful partnership to move the world toward low carbon energies.
The report notes that "natural gas offers a cleaner alternative to coal" and sets up the stage for natural gas to play a starring role in the future of energy for its "flexibility, scalability, and cost-competitiveness to complement the variable distributed nature of wind and solar power generation."
"If the world is to truly move away from coal as its primary means of electricity production, then natural gas must realize its full potential as a partner to the renewable energy industry," said Kitasei. "Natural gas is undergoing a renaissance. Our research indicates that the environmental community should pay attention to the opportunities that this resource brings. When deployed as part of an integrated approach, renewable energy and natural gas can reduce coal dependence, deliver emissions reductions, and catalyze the transition to a low-carbon economy."
According to the report, there are four key mechanisms that can enable the combination of renewable energy and natural gas to displace coal and provide needed reductions in power-sector emissions:
• First, air pollutants such as nitrogen oxide, sulfur dioxide, and mercury must be tightly regulated.
• Second, a cost must be attached to emitting carbon dioxide.
• Third, electricity system operators should allow wind and solar plants to balance their own output with on-site resources.
• Fourth, the markets on which system operators purchase electricity must be highly responsive, allowing them to react to fluctuations in electricity supply and demand as rapidly as possible.
The report is part of a larger look that the Worldwatch Institute is taking into the role of natural gas in the future global economy.