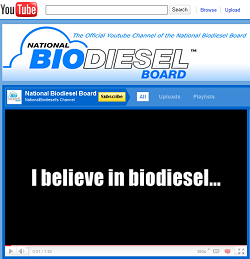 Maybe it's the renewable nature of the fuel. Maybe it's the fact that the fumes from some of it smells likes french fries. Maybe, my personal favorite, it helps this country get off its foreign oil addiction. Well, whatever your reason for believing in biodiesel, the National Biodiesel Board is inviting you to put your thoughts onto video:
The best of the best clips will be used during the 2011 National Biodiesel Conference & Expo, Feb. 6 – 9 in Phoenix, showcased on the National Biodiesel Board's web site, Facebook Fan Page, and other communications where biodiesel is at work.
Make your voice heard as our industry moves forward!
The statements must be submitted in the following format: "I believe in biodiesel because…."
You can check out the National Biodiesel Board's site and see how some of the NBB's staffs' examples to get you started. My personal favorite is my friend Jessica Robinson's video, where she mentions her best friend's husband, who is in the Marine Corps serving overseas.