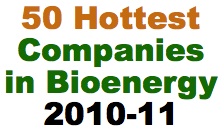 Biofuels Digest has announced its "Top 50 Hottest Companies in Bioenergy" and this year's top spot goes to Amyris, a renewable fuels and chemicals developer based in Florida. The rankings recognize innovation and achievement in bioenergy development and are determined by 50 percent of votes from a 75-member panel of international selectors, and 50 percent of votes from subscribers of Biofuels Digest and Renewable Chemicals Digest.
Rounding out this year's Top 10:
1.     Amyris
2.     Solazyme
3.     POET
4.     LS9
5.     Gevo
6.     DuPont
7.     Danisco Cellulosic Ethanol
8.     Novozymes
9.     Coskata
10.  Sapphire Energy
Of the top 50 companies selected, 37 were based in the U.S. while 13 were international. In addition, 15 companies are focused on cellulosic ethanol development (down from 19 in 2009-10) and 5 are developing algae-based energy solutions (down from 7 last year). Sixteen of the companies are focused on developing "drop-in" renewable biofuels such as biobutanol, renewable diesel, green gasoline, and renewable jet fuel. This category has increased from 15 companies in last year's poll. Lastly, 13 companies are producing technologies to create renewable chemicals.
New to this year's list: Cargill (#36), Butamax (#38), Cosan (#40), Waste Management (#42), Dynamic Fuels (#44), KiOR (#47), Chevron (#48), and Monsanto (#49).
Click here to see the full "50 Hottest Companies in Bioenergy".