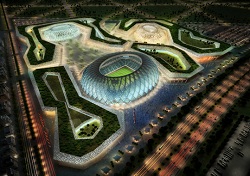 In what's being described as a bit of a stunning announcement, the tiny Middle Eastern country of Qatar has been picked as the site for the 2022 World Cup, soccer's biggest event. So how did a small country that will be subject to temperatures of above 120 degrees Farhenheit during World Cup play get the games? This inhabitat.com article I first told you about last June says solar power will play a major role in keeping the players and fans cool when the temperatures soar:
Three new eco stadiums and sports complexes will be built close within the city limits allowing fans as well as teams to easily access the arenas. The Al-Wakrah stadium will be able to host over 45,000 spectators and be located in a mixed-use complex along with an aquatic center, spa, sports facilities and a mall, which will continue to be utilized all year long even after the competition ends. Then the Al-Khor and Al-Shamal Stadiums will also be constructed with seating capacity greater than 45,000. Qatar plans on using solar technology to power carbon-neutral technology in order to cool the stadiums and keep the temperature inside less than 27 degrees celsius.
Ironically, Qatar is an petroleum-rich nation that has decided to go with green technology for this project.