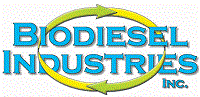 Biodiesel Industries, Inc. has picked up a nearly $1 million grant from the California Energy Commission's Alternative and Renewable Fuel and Vehicle Technology Program for its at a naval base in California.
The company says the Biofuel Production Plant grants provide funding and financial assistance for the development of new biofuel production plants based in the Golden State and enhance the operation of existing plants to increase statewide biofuel production and reduce greenhouse gas emissions:
Biodiesel Industries' "ARIES© Bioenergy Project" was ranked in the top three among the 44 projects competing for grant funding, resulting in the company's selection as a grant recipient in the amount of $886,815. This multi-year project will demonstrate the use of advanced biodiesel production techniques utilizing algae in an integrated energy system monitored by the ARIES© platform (Automated Real-time, Remote, Intelligent Integrated Energy System).
ARIES© is a highly automated, transportable biodiesel production unit with the capability to be controlled from a remote location. These features ensure reliable process control and optimal production yields in a sustainable system that can be readily and widely deployed. Under this grant, the system will be adapted to fully integrate algaculture, anaerobic digestion of waste products and self-generated combined heat and power. This unique approach will enable the production of biodiesel to be self-sustainable, produce excess renewable energy and substantially reduce greenhouse gases.
Project work will be conducted at Naval Base Ventura County at Port Hueneme, Calif. in conjunction with the ARIES© Biodiesel Production demonstration and validation program under an ongoing Cooperative Research and Development Agreement with the Naval Facilities Engineering Service Center.
The ARIES system allows many scalable facilities using next-generation feedstocks, producing billions of gallons of biodiesel each year, to be operated remotely. You can read more about the project at the Biodiesel Industries, Inc. website.