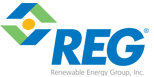 A major fuel terminal in the Chicago area soon will be offering Renewable Energy Group's biodiesel.
And REG officials say much of the REG-9000/1 biodiesel available for splash blending at Kinder Morgan's Argo, Ill. terminal in mid-December will come from the company's refineries in the state:
"Illinois petroleum distributors blend more biodiesel than any other state due to the B11 incentive," explained Jon Scharingson, REG's Director, Marketing. "This new terminal location combines the quality of REG-9000 biodiesel, the industry experience of REG and the convenience of the Chicago terminal site."
Petroleum distributors may pick up REG-9000TM biodiesel 24/7 at the terminal located at 8500 West 68th Street Argo, Illinois after setting up a Kinder Morgan account.
"Kinder Morgan's Argo terminal is one of the most active terminals in the state of Illinois. REG is excited to offer its customers the opportunity to pull transport loads from this terminal," Scharingson added.
Renewable Energy Group (REG®) expects biodiesel from its Illinois facilities—REG Seneca or REG Danville—to be the primary suppliers for the new terminal location.
You can find out more by talking to REG's Mike Alleman, Manager, Sales Operations, at michael.alleman@regfuel.com. Contact Andy Dorich to set up a Kinder Morgan account at Andy_Dorich@Kindermorgan.com.